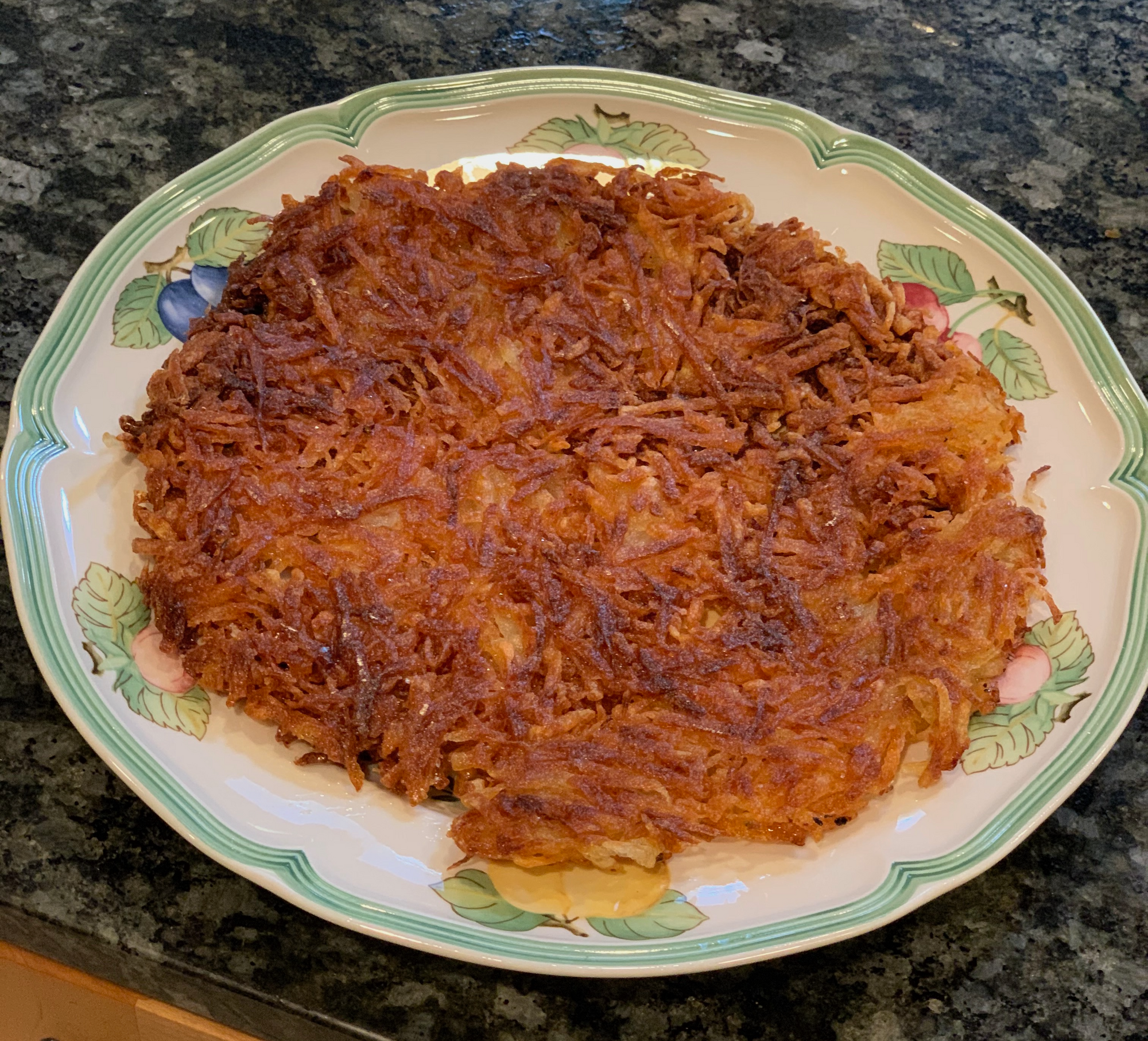 We were grilling chicken for dinner – a favorite of mine because it always makes me feel that summer is here. I needed a few quick sides that I could prepare quickly. I thought that I would make an Israeli salad – just cut up some cucumbers and tomatoes and maybe throw in a diced pickle for flavor, but then I noticed that I had 2 Idaho baking potatoes in the fridge. Suddenly I thought that my mom was always able to throw together a delicious meal by making a large latke, or a Kaizle, as it is traditionally referred to. This is simply one large potato latke which covers the entire pan.
For some reason, at that moment, I recalled a story my mom told me: About 6 months after she was liberated from Torgau (a subcamp of Buchenwald) she was living in her hometown of Vasarosnameny. Upon hearing that her brother was alive and living in Freising, Germany, she decided to leave and stopped in Budapest. There she stayed with friends who had also survived. She was going to make chicken paprikas with  dumplings, but they had no eggs, so she made them – with no eggs – and they were delicious! So, I decided that I would follow my mother's advice and make a Kaizle with no eggs. (This is apparently the Swiss version of a latke, called a Rosti, which I discovered after making it).
It was delicious, light and crispy. And I would recommend it for any time you want a quick, fresh side of potatoes! Another plus is if you are watching the amount of eggs you eat, there are no eggs.
Here is what you need and what I did:
I used 2 large baking potatoes. Peel them and grate on the largest grating side. Then squeeze the water out of them and put them in a medium bowl. Sprinkle with salt and freshly ground pepper. Meanwhile, heat about 3 Tablespoons oil (I used canola) in a 10-inch nonstick skillet over medium to medium-high heat. When the oil is hot (you can test this by dropping a drop of water in the oil and it should sizzle), add the potatoes so that they cover the entire pan. Let them cook, uncovered, for about 5 minutes or until they seem to be browned on the bottom, making sure they are not sticking to the pan. If you think they are sticking, you can add oil. Flip and cook on the other side for a few minutes until browned. Slide onto plate (I usually dab lightly with a paper towel to remove some of the grease, so the potato stays crispy) and serve!
My only recommendation is to make more than you think, because it is so delicious that everyone will want more!!!!