It is autumn now, and I just love the multitude of colors outside – the rust, orange, yellow, red, green and brown leaves. And somehow I always feel like eating foods of the same color. The one food that has the same variation of color and always, always reminds me of autumn is squash. The many recipes and variety of taste and texture of the assorted squash feels like fall to me.
I just prepared delicate squash, which is one of my favorites, because of its light texture. It has a flavor that is similar to other orange squash, such as acorn and butternut, but very light. I simply cut it in semi-circles that are about 1 inch thick, drizzle a little oil, brown sugar and apricot preserves. I baked it, covered at 350° for about 20 minutes then uncovered and basted and baked again for another 15 – 20 minutes so it had a nice glaze to it. YUM!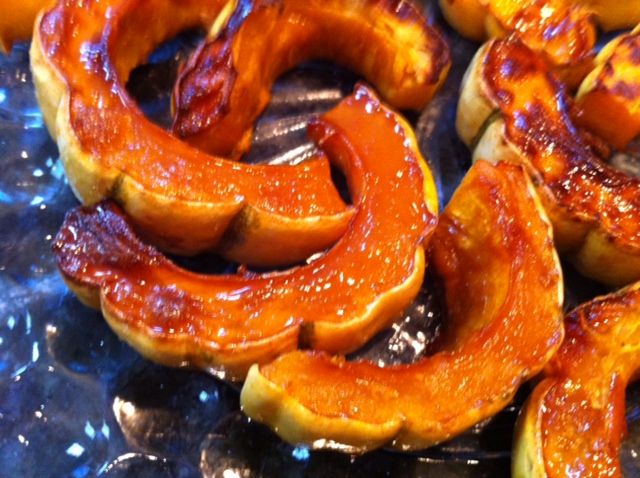 My mom loves acorn squash. I cut it in half horizontally, and cut off the two tips, so it can stand up. Place the squash in a shallow baking pan. Scoop out the seeds, and rub a bit of oil, brown sugar and apricot preserves on top and inside the cavity. Sometimes I add some fresh cranberries for a zing. Cover tightly and bake at 350° for about an hour. You can see if it is soft. If not bake for another 20 minutes covered. When it is soft, uncover and bake for about 5 minutes to get a nice glaze.
I also love spaghetti squash. This I have prepared as spaghetti with a tomato sauce. Prepared this way, it seems like you are eating spaghetti (without the calories!) Or again, you can make it sweet, as above. The texture however, is very different than either acorn or delicate squash.
Two more squash which I enjoy this time of year is butternut squash. Watch soon for my recipe for butternut squash strudel, which I received from Veronica Sporia, who works in the kitchen of Hungarian Kosher Foods, and it is so easy and what a delightful dessert this time of year.
And finally, the pumpkin! Pumpkins are great for so many recipes and dishes. First of all, you can simply roast the seeds to make "pumpkin seeds". My mom roasted the seeds many years when I was little, as she also roasted chestnuts this time of year. And last weekend, I made my first pumpkin pie of the season! Now I know that autumn is here – in full color and all its glory!
So, go outside and breath in the wonderful autumn air. Relax in the many colors of the leaves, and enjoy the wonderful foods of the season!