A Special Journey Through Machane Yehuda
Each summer when I go to Israel, I try to think of an interesting, enriching outing to do with my Israeli grandchildren. Last summer, I went with my granddaughter, Gila, to "Dialog BaChashecha" the Blind Museum, which is located in Holon. It is an experiential museum and, believe me, an experience, I will always remember. I would recommend this to everyone, to gain a better understanding of how it feels to be blind. As I was wondering how I could possibly find an activity that would be memorable and rewarding, a friend of mine who lives in Jerusalem, recommended a particular Historical Culinary tour of Machane Yehuda, the open market in Jerusalem. My interest was instantly piqued, because our family loves to cook, but more importantly, because I thought that perhaps this would be a way to gain more knowledge and to share more culinary history with Gila. My brother and also my cousin were in Israel, so I was even more excited to try this.
We had our own group – Gila, my brother, my cousin, my brother's friends who were also in Israel and me. Chef Shmil met us at the entrance to Machane Yehuda, and immediately took us to a courtyard across the street.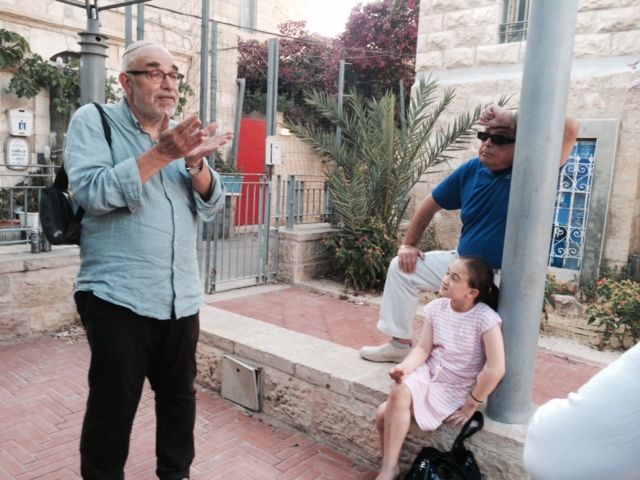 There he began to explain the history of the Jews in Jerusalem and explained how they began to live outside of the walled, old city of Jerusalem. Chef Shmil is trained both as a historian and also as a chef. As they began to sell their foods and spices, there were very specific stations reflecting the different origins of the Jews, people selling spices reflecting the Sephardic foods, people selling kugels and chulent from Eastern European Jews. As time went on, many of the distinctions blurred and there are today stations that sell food from both cultures. Our first stop was to a bakery, where Chef Shmil explained to us how they made bread over a hundred years ago, how the ovens were made, and why certain bread styles became popular due to the particular ovens available.
We saw the various spices, tasted the most amazing cheeses, fruits, raw almonds in their green shells, and, of course, we tasted the most delicious chocolate made in Belgium, in one of the few places in the world that actually manufacture chocolate.
The tour was a delightful trip through history and the finest in Jewish cuisine. Chef Shmil is a captivating storyteller, and we were enthralled with the stories as he made the history come alive through the foods and the places. This was such a successful outing that Gila asked me if could just do it again next time I come to Israel. So I guess, I already know what the next outing will be….